Reviews regarding the release
Meditation Chants of Hildegard von Bingen
sung by Norma Gentile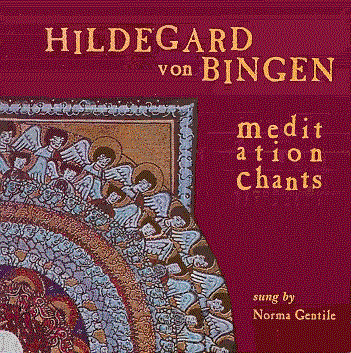 What the Critics are saying...
"Gentile's liquid singing and breathless delivery combine with her almost supernatural presence, concentration, and modal sensitivity."
- Mark Longaker
Early Music America Magazine
"A lone soprano voice, pure and serene, echoes unaccompanied. Flitting from note to note, almost like the song of a bird, the singer conveys a sense of other-worldly joy...The purity and flexibility of voice provide a fine instrument for Hildegard's music."
- Ray D. Hatton
Christianity and the Arts Spring 1998
"...deeply committed and sensuously spiritual."
-Dr. Christopher Rothko, former Contributing Editor
High Fidelity and Musical America Magazine
"In Meditation Chants, Norma Gentile's exquisite soprano voice delivers each of these sacred monophonic Latin chants to the listener with a sense of healing and compassion. She and Hildegard describe the chants as translations of the subtle tones of the Universal Harmony or Cosmic Symphony. Gentile hears this symphony as well and honors Hildegard's strength and beauty through each selection. The liner notes include the English translation of each chant.
"The chants provide a soothing background for meditation and simply bringing ourselves to a peaceful place that is green and lush and full of love. Enjoy the ecstasy of God by experiencing this symphony of joy and jubilation."
-Peg Noonan
Creation Spirituality Network Magazine
"It is not possible to convey the power and effect of listening to this recording, mostly in Latin but with English translation enclosed in the CD. It gives chills, thrills and a soothing of the soul in the twinkling of an eye as Norma connects us with divine melody and depth so great, at the coming of two more millenniums it will probably still be reverberating and tenderly taking our hearts higher and nearer to heaven."
-Susan Fine
phenomeNEWS
"Norma Gentile's clear soprano voice embodies these chants with a singular clarity and resonance. The chants, recorded live during three separate concerts, are from Hildegard's Symphony of the Harmony of Celestial Revelations and "intended for use in daily worship services." Ms. Gentile wraps her voice around the words and lifts them up like an offering of the spirit. In addition to her beautiful, and beautifully controlled, voice, Ms. Gentile's interest in vibrational healing may help account for the finely modulated vocal lines throughout this recording. A genuineness suffuses the performances as though one were privy to a private inner conversation. As the notes delineate, Hildegard believed that "chants are translations of the subtle tones of the...Cosmic Symphony" and that seems to be an excellent interpretation of the qualities in this recording. Track 3 has a fine example of the use of an audience-derived "drone chorus" to enhance the presentation of this music. Text and translation included. Beautifully done, highly recommended."
-Patricia Cutts, editor
Harmonia Early Music Newsletter
---
Reviews-Unfurling Love's Creation

originally released on Schoolkids' Records SKR 1803 (CD) 3/96
re-released by Ave Maria Press AMP 893-8 (cassette) AMP 894-6 (CD) 8/97
re-released by Healing Chants Media